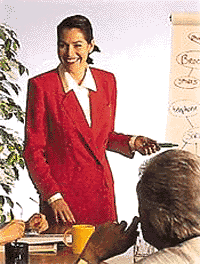 Who We Are ...
U2 Can Speak Toastmasters is a company club that meets weekly on Thursdays at lunchtime at Raytheon in Dulles, Virginia. We provide a friendly atmosphere for acquiring and practicing public speaking skills which aid in giving business presentations, answering on-the-spot questions with finesse, and feeling comfortable in front of an audience. Our club also offers plenty of Leadership Opportunities which will help you become a better leader and/or manager.
Sound like something you can benefit from? We are always looking for new members. Please drop us a line using the Join Us form to the left, give one of the officers a call or drop by a meeting as a guest. We will tell you all about Toastmasters, and how you can join the fun!
Where We Are ...
Raytheon Company, 22110 Pacific Blvd Sterling, VA 20166 [Map]
News and Events ...
Welcome!
Guests - Please fill in the Contact Form to visit our club.

Due to site requirements, all visitors must be US Citizens or Permanent US Residents.
If not, see Meetup for other clubs in the area.
Upcoming Meetings and Special Events
All meetings are on Thursday at noon in the Cleveland Room, unless otherwise noted. Please arrive by 11:50 to check-in.

Members - please contact Radhika if you have a preferred speaking date or roles you want to fill.
April
April 26th - U2 Can Speak meeting - Cleveland Room, TMOD: Volunteer needed (see Radhika)
May
May 3rd - U2 Can Speak meeting - Auditorium McKinley B
May 10th - U2 Can Speak meeting - Cleveland Room
(optional, beyond the club) Saturday, May 12th, District 29 Conference and Contests - see Contest Season below
May 17th - U2 Can Speak meeting - Garfield Conference Room
May 24th - Open House for Raytheon Employees - Auditorium-McKinley-A
Current members - please plan to attend and help with this special event
May 31st - U2 Can Speak meeting - Cleveland Room
The Toastmaster of the Day (TMOD) coordinates the meeting.
As members, we can all do our part to help them out by: coming to meetings regularly, RSVP'ing and asking your mentor if you need help with a role.
If you can't make it, try to find a replacement for your role using Role History and let the TMOD know. For Speakers, contact TMOD.
Hint: For AH Counter/Timer, look for new members who have Last Time in Role as "Never". For other roles, check Role History for longest number of Weeks Since.
Contest Season
Speech contests are a Toastmasters tradition. Toastmasters around the world compete in the Evaluation and International speech contests in the Spring, and other contests in the Fall. Winners progress up from club, area, division and district...all the way to the crowning of the World Champion of Public Speaking at the International Convention.

District 29 Results. Everyone who competed is a winner and a role model for others. Well done!

Contest Dates for our members:
(complete) March 1st - U2 Can Speak Club Contest
Congratulations Donna and Radhika - 1st & 2nd in both contests!
Thanks to everyone who participated and helped make it a great contest!
(complete) Saturday, March 24th - Area 55 & 56 Contest
Congratulations to Donna - 2nd place in both contests!
(complete) Saturday, April 14th - Division E Contest
Congratulations to:
Speech Contest: David, Brianna (A55), Teresa
Evaluation Contest: Drew, Heather (A55) and Carolyn



Saturday, May 12th - District 29 Conference and Contest
Capital One Headquarters - 1680 Capital One Drive McLean, VA
Winners from seven Divisions (A-G) compete
Cost for full day: $75 (includes Continental Breakfast, Lunch and snacks, 2 contests, key note address, educational sessions, Hall of Fame, business meeting, networking and more!)
Registration and Information
August - World Championship of Public Speaking
District winners from around the globe compete for the title of World Champion!
This year's will be held in Chicago, Illinois
You are also welcome to attend other Toastmasters contests in
District 29
and beyond.
Distinguished Club Plan Status
Members - are you working toward your goals for this Toastmasters year? Work with your mentor and let the VPE, Radhika, know your plans.
Come to meetings regularly and you'll be on your way!

All clubs work on group goals that help members meet their individual goals.
Clubs that meet 5 or more of 10 possible goals receive recognition from Toastmasters International as part of the Distinguished Club Program (DCP).

Official Report at Toastmasters International (2017-2018 year)
Current Status: 7 out of 10 goals achieved (Select Distinguished)
End of Toastmasters Year: June 30th
We plan to reach President's Distinguished (9+ out of 10)

Officers:
President: Donna
Vice President Education: Radhika
Vice President Membership: Dave
Vice President Public Relations: Marcia
Secretary: Rachel
Treasurer: Anthony
Sergeant-at-Arms: Jennifer
Immediate Past President: Marianne

Report in the link updates weekly
Toastmasters Goals and Resources
All Toastmasters members and clubs are always working toward goals.
Goals are related to Communication and Leadership accomplishments for both individual members, officers and the club as a whole.
Members and clubs who work toward the Toastmasters International goals learn a great deal and are recognized by Toastmasters International in the form of awards.

Individual Goals:
Toastmasters recently updated the education program. The new program is called Pathways. Pathways is designed to help you build the skills you need to communicate and lead. It is comprised of 10 paths that teach more than 300 unique competencies.

Club Goals: Toastmasters International recognizes high-performing clubs through the Distinguished Club Program (DCP).
When the club focuses on meeting these goals, it can help the members meet their individual goals. Reports are updated at least weekly: DCP Report for Club 8224
We are: District 29, Division E, and Area 55, Club 00008224

Resources

Links for Potential Members:
About Toastmasters
Toastmasters listing for our club (additional contact info)
Pathways First Speech - Ice Breaker

Links for New Members:
Paths and Projects (thanks District 4!)
District 29 Pathways Information
Club Meeting Roles
How To Documents

Links for Members who joined before October 2017 (Traditional Program):
(Traditional) Education Program
Traditional Program Tracks
(Traditional Program) Competent Communicator Manual Summary
(Traditional Program) Competent Leadership Manual Summary
First Speech (Traditional Program) - Ice Breaker

Links for Advanced Goals (Traditional Program):
(Traditional Program) Advanced Communicator Manual Summaries
(Traditional Program) Advanced Communicator Goals
Advanced Leader Goals

Links Related to Club Leadership:
Distinguished Club Program (DCP) Report
Reports
Club Leadership Handbook
Leader Letter
Resources (from District 29)
Club Constitution and Bylaws
(Download) Distinguished Club Program (DCP)

Traditional Program

The information below is about the Traditional (legacy) program. The traditional program is grandfathered until at least October 2019 for members who joined our club/district before October 2017.
The Toastmasters Traditional member educational program was based on two tracks - Communication and Leadership.
These tracks can be worked on simultaneously.

New members before Fall 2017 received 2 manuals when they joined: the Competent Communicator (CC) manual (projects related to speeches) and the Competent Leadership (CL) manual (projects mainly based on meeting roles and other leadership skills). (Now new members receive 1 online Pathway)

Communication Goals: The first 10 speeches in the traditional program are the basis of the Competent Communicator (CC) award.

Leadership Goals: In parallel with the communication track, members in the traditional program work toward the Competent Leadership (CL) award by following the manual or accomplishing the listed criteria, mainly by fulfilling club meeting roles.

Advanced Communication and Leadership Goals: On the communication track, members began working toward the Advanced Communicator (AC) awards in the traditional program once a CC was achieved.
The first two advanced manuals were free after the CC was submitted. (Pathways handles this differently). On the leadership track, some of the criteria for the advanced goals may have been met while still working on the initial level.
Each Advanced Leadership level has a list of leadership experiences or projects to accomplish.
Permanent Post



Our default conference room is the Cleveland Conference Room (101-R12-2 - 1st floor, just off the lobby).
Alternate Room Locations: Garfield (102-R12-2 above lobby) and Auditorium
Employees: Meeting room change on the 3rd Thursdays starting in April 2018: Garfield Room Last Updated January, 2018