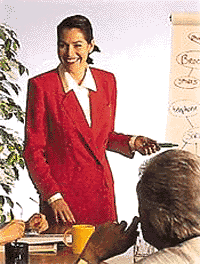 Who We Are ...
U2 Can Speak Toastmasters is a company club that meets weekly on Thursdays at lunchtime at Raytheon in Dulles, Virginia. We provide a friendly atmosphere for acquiring and practicing public speaking skills which aid in giving business presentations, answering on-the-spot questions with finesse, and feeling comfortable in front of an audience. Our club also offers plenty of Leadership Opportunities which will help you become a better leader and/or manager.
Sound like something you can benefit from? We are always looking for new members. Please drop us a line using the Join Us form to the left, give one of the officers a call or drop by a meeting as a guest. We will tell you all about Toastmasters, and how you can join the fun!
Where We Are ...
Raytheon Company, 22110 Pacific Blvd Sterling, VA 20166 [Map]
News and Events ...
Next Meeting
Our next meeting will be this Thursday.

Guests - please Contact us in advance so we can have your visit request approved by the site.
Policies require thatvisitors must be US Citizens or Permanent US Residents. If not, we'd recommend Toastmasters Meetup to find another great club nearby.

Meeting room change on October 13th & 20th: Same building, Garfield Conference room. Please meet in the lobby, as usual.
Fall Contests
Fall Contest Season continues with Humorous Speech and Table Topics winners advancing to the District Conference finals.
District 29 Conference: Saturday, November 5th
Capital One Headquarters 1680 Capital One Drive McLean , VA 22102
Cost: $69, includes contests, key note address, educational sessions, continental breakfast/luncheon and more!
Contest Results
Note: Heather, from our sister club, AOL-Asurion, will represent Division E at the District Table Topics Contest! Congratulations & good luck, Heather!
Distinguished Club Program
Toastmasters International recognizes clubs for meeting goals related to the Distinguished Club Program (DCP).
The Toastmasters year runs from July 1, 2016 to June 30, 2017.

Official Report at Toastmasters International

We have 20 members committed through March 2017

U2 Can Speak Plans for 2016-2017: President's Distinguished (9+ goals, 20+ members)
Status as of early October: 3 Goals Complete, 20 Members

plus communications, leadership and membership goals are in progress!

Individual Goals Completed since July 1, 2016:
Anthony - Advanced Communicator-Bronze
Jennifer - Advanced Communicator-Silver (to be submitted)
Toastmasters Goals and Resources
All Toastmasters members and clubs are always working toward goals. The Toastmasters member educational program is based on two tracks - Communication and Leadership. These tracks can be worked on simultaneously. All new members receive manuals to guide them through the program. Members and clubs who work toward the Toastmasters International goals learn a great deal and are recognized by Toastmasters International in the form of awards. More information about the educational award system can be found on the Toastmasters International website.

Communication Goals: The first 10 speeches are the basis of the Competent Communicator (CC) award.

Leadership Goals: In parallel with the communication track, members work toward the Competent Leadership (CL) award by following the manual or accomplishing the listed criteria, mainly by fulfilling club meeting roles.

New members receive 2 manuals when they join: the Competent Communicator (CC) manual (projects related to speeches) and the Competent Leadership (CL) manual (projects mainly based on meeting roles).

Advanced Communication and Leadership Goals: On the communication track, once a CC is achieved, members begin working toward the Advanced Communicator (AC) awards. The first two advanced manuals are free after the CC is submitted! On the leadership track, some of the criteria for the advanced goals can be met while still working on the initial level.
Each Advanced Leadership level has a list of leadership experiences or projects to accomplish. Becoming a club officer is an easy way to get started meeting one of the Advanced Leadership goals. Even new members can serve as officers.

Club Goals: Toastmasters International runs a program to recognize high-performing clubs through the Distinguished Club Program (DCP). Goals are related to Communication and Leadership accomplishments for both individual members, officers and the club as a whole. When the club focuses on meeting these goals, it can help the members meet their individual goals. Reports are updated at least weekly: DCP Report for Club 8224
We are: District 29, Division E, and Area 55, Club 00008224

Resources

Links for Potential Members:
About Toastmasters
Toastmasters International - Educational Program
Toastmasters listing for our club (additional contact info)
First Speech (Ice Breaker)

Links for New Members:
Competent Communicator Manual Summary (thanks District 4!)
Competent Leadership Manual Summary
Club Meeting Roles
CL Tracking Form (Excel download)

Links Related to Club Leadership:
Distinguished Club Program (DCP) Report
Club Leadership Handbook
Leader Letter
Resources (from District 29)
Club Constitution and Bylaws
(Download) Distinguished Club Program (DCP)

Links for Advanced Goals:
Advanced Communicator Manual Summaries
Advanced Communicator Goals
Advanced Leader Goals
Permanent post



Our default conference room is the Cleveland Conference Room (101-R12-2 - 1st floor, just off the lobby).
Alternate Room Locations: Garfield (102-R12-2)/Hayes (102-R7-4) on the 2nd floor or Buchanan (106-R5-2) on the 6th floor