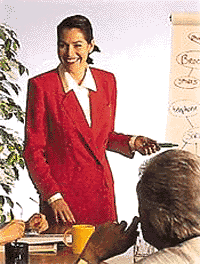 Who We Are ...
U2 Can Speak Toastmasters is a company club that meets weekly on Thursdays at lunchtime at Raytheon in Dulles, Virginia. We provide a friendly atmosphere for acquiring and practicing public speaking skills which aid in giving business presentations, answering on-the-spot questions with finesse, and feeling comfortable in front of an audience. Our club also offers plenty of Leadership Opportunities which will help you become a better leader and/or manager.
Sound like something you can benefit from? We are always looking for new members. Please drop us a line using the Join Us form to the left, give one of the officers a call or drop by a meeting as a guest. We will tell you all about Toastmasters, and how you can join the fun!
Where We Are ...
Raytheon Company, 22110 Pacific Blvd Sterling, VA 20166 [Map]
News and Events ...
Welcome!
Guests - To request a visit to our club, please fill in the Contact Form by Tuesday evening. Please wait to receive confirmation before attending.

Due to site requirements, only US Citizens or Permanent US Residents can join our club.
We will contact you to obtain information needed for a virtual visitor pass.
We also want to say hello and answer any questions you may have.
Please bring a US government-issued photo ID:
US Citizens: driver's license, passport, or military id
Permanent US Resident: Permanent Resident ID card required
All guests must have a pass and be escorted at all times beyond the lobby. We are looking forward to hearing from you!
If not a US Citizen/Permanent Resident, please see
Find A Club
for open clubs nearby.
Upcoming Meetings & Events
All regular club meetings are held on Thursday at noon at 22110 Pacific Boulevard. Please arrive by 11:50 to check-in. We will bring you to the meeting room.
Building security requires presentation of a government-issued photo ID at the front desk (see above).

Meetings are in theCleveland Room, unless otherwise noted. The Toastmaster of the Day (TMOD) coordinates the meeting.
January 24th - TMOD: Neena
January 31st - TMOD: Radhika
February 7th - TMOD: TBD
February 14th - TMOD: Cholina
February 21st - TMOD: CalvinGarfield Room
February 28th - TMOD: Iain
Roles
As members, we can all do our part to help the meeting be successful by: coming to meetings regularly, RSVP'ing, and asking your mentor if you need help with a role.
Roles are assigned using a combination of VPE scheduling and member self-assignment.
If you see an empty spot, you can select a speech slot or role. Each week, the TMOD will be filling unassigned roles using RSVPs and the steps below.
We know things come up at the last minute, so as a group we roll with the role changes, but please try to help out the TMOD!!
To fill a slot when you are the Toastmaster of the Day or find a replacement for your role if you can't make it:
For Speakers, contact TMOD. TMOD contact VPE Team (Neena, Radhika & Jennifer) for backup speaker list
For AH Counter/Timer, first look for new members who have Last Time in Role as "Never"
For other roles, check Role History for longest number of "Weeks Since"
Beyond the Club
Saturday, January 26th - TLI - Fairfax VA
Saturday, February 9th - TLI - Woodbridge VA
Saturday, February 23rd - TLI - Ashburn VA
Tech Toast 2nd & 4th Tuesdays 7-8 pm - in Reston
Some of our members are dual members
Reston/Herndon Toastmasters 2nd & 4th Wednesdays 7-8:30 pm- in Reston
Some of our members are dual members
Sterling Toastmasters 1st, 3rd & 5th Wednesdays 4:00
Our sister club down the street. Note that Sterling Toastmasters allows virtual participation.
Other clubs nearby: Find a Club
Toastmasters Leadership Institute (TLI)
winter sessions have been scheduled.
Club officers and members interested in additional free leadership training should plan to attend one of the sessions above or in a neighboring District.
Other events:
District 29 Calendar
2018-2019 DCP Status Details
Our club has received Toastmaster International's highest honor, the President's Distinguished award, for the past 5 years. We are working toward a sixth year. All clubs work on group goals that help members meet their individual goals.
Clubs that meet 5 or more of 10 possible goals receive recognition from Toastmasters International as part of the Distinguished Club Program (DCP).

Official Report at Toastmasters International (2018-2019 year)

Goal: President's Distinguished (9+ out of 10)
Current Goals Achieved: 3.5 (+ 6 more planned)
Membership: 20 (20 required on June 30, 2019 to qualify for awards)

Club Goals Summer/Fall (4.5 planned):
Training Goals Summer/Fall (All Officers)
---DCP Goal 9: Officers Trained by Sept 1st (1a Summer: 6 trained, 1b -Winter) (Club Goal 1a complete, 1b planned)
Administration Goals Summer/Fall (Secretary/Treasurer)
---DCP Goal 10 Fall (COMPLETE - Club Goal 2): On Time Submittals (a & b required) (complete)
10a: Officer List (complete)
10b: Fall dues (complete)
Educational Goals Fall (VPE and individual members)
---DCP Traditional Goal 5: (COMPLETE - Club Goal 3) One Leadership Goal (CL/AL-B or beyond) (complete: Radhika CL)
---DCP Traditional Goal 6: (COMPLETE - Club Goal 4) One More Leadership Goal (CL/AL-B or beyond) (complete: Radhika AL-B + bonus: Dave AL-B)
----Fall Contest - complete (not a DCP goal)
Membership Goals Summer/Fall (VPM/VP PR)
---DCP Goal 7: Four New Members: 3 joined (S,E,L) + 1 more needed (planned - Club Goal 5)

Club Goals Winter/Spring (4.5 planned):
Training Goals Winter (All Officers)
---DCP Goal 9: Officers Trained by March 1st (Winter: goal 7 trained, 4+ required) (winter planned - Club Goal 1b)
Educational Goals Winter/Spring (VPE and individual members)
---DCP Pathways Goal 1: Four Pathways Level 1 Awards (2 complete: Maria, Kristi + at least 2 planned: N, T, J - Club Goal 6)
Same for all Paths: Members must complete 4 speeches + 1 evaluation
---Progress for Additional Pathways Level 1 Awards - all new members
---DCP Traditional Goal 1: Two Competent Communicator Awards (CC) (1 CC complete Dave, 1 CC planned - Club goal 7)
---DCP Pathways Goal 2: Two Pathways Level 2 Awards (planned: M, ? - Club Goal 8)
Varies by Path, requires members to complete 2 speeches or 1 speech + be the Table Topics Master
---Spring Contest - planned (not a DCP goal)
Administration Goals Spring (Secretary/Treasurer)
---DCP Goal 10c: Spring dues on time (planned, but not required for Goal 10)
Membership Goals Winter/Spring (VPM/VP PR)
---Spring Open House - planned (not a DCP goal)
---DCP Goal 8: Four More New Members: 4 more needed (planned - Club Goal 9)

Note: The officer(s) responsible for tracking the award are listed in the award category.
However, the club achieves its goals when the club works together to help members achieve their goals.

Acronyms:
CC = Competent Communicator - first 10 speeches
CL = Competent Leader - initial 10 leadership projects
AC = Advanced Communicator (B=Bronze, S=Silver, G=Gold) - additional 10 speeches + other
AL = Advanced Leader (B=Bronze, S=Silver) - additional leadership objectives, such as being a club, area or district officer
DTM = Distinguished Toastmaster (DTM=ACG + ALS)

Last Updated December 14, 2018
Leadership Team
All officers are here to support you, the member.
The Club, Area 55, Division E and District 29 are all here to help you and the club meet our communication and leadership goals.
Here is the team for this Toastmasters year.
2018-2019 U2 Can Speak Club Officers:

2018-2019 Officers:
President: Radhika*
Vice President Education: Neena*
Vice President Membership: Ali
Vice President Public Relations: Marcia
Secretary: Jennifer*
Treasurer: Indu
Sergeant-at-Arms: Maria
Immediate Past President: Donna

* Member of Education Committee

Leadership Team Supporting our Club
Area 55 Director: Lynne from Sterling Toastmasters (4 Clubs)
Division E Director: Dave (5 Areas)
District 29 Leadership: (7 Divisions A-G)
District Director: Dwight
Program Quality Director: Dana
Club Growth Director: Narayanan
Our Members Serving Outside the Club:
Division D Director: Anthony
Division E Director: Dave (our Division)
Area 43 Director: Radhika
District Administration Manager: Donna
Pathways Progress
Paths in Progress
Number of U2 Can Speak Members per Path:
Dynamic Leadership (3)
Effective Coaching (1)
Innovative Planning (2)
Leadership Development (3)
Presentation Mastery (2)
Strategic Relationships (1)
Team Collaboration (2)
Visionary Communication (2)
Motivational Strategies (0)
Persuasive Influence (0)
Each member chooses a Path from the list of ten options above. (Dual members before May 2018 received 1 additional path).
Pathways Level 1
Speeches/Roles completed:
Level 1 complete: Maria, Kristi, Neena
+Ice Breaker speech: AD, AG, CC, I, J, R, SL, T, Y
+Evaluation and Feedback speech 1: AD, I, J, T
+Evaluation and Feedback speech 2: T
+Evaluation and Feedback - evaluate another member's speech and have your evaluation evaluated: (let Neena know) J
+Researching and Presenting speech:
Pathways Level 2
Speeches/Roles completed:
+Speech 1: Intro to Toastmasters Mentoring
+Speech 2 (Path Specific: Understanding your Leadership or Communication Style): N
+Speech/Role 3: (Path Specific: Understanding your Communication Style, Active Listening or Path Specific Project)
Pathways Level 3
Required Project (Path Specific)
First Elective (choose from 9+ options)
Second Elective
Pathways Level 4
Required Project - Workshop or Lead a Team (Path Specific)
Elective Project (Path Specific - choose from 8+ options)
Pathways Level 5
Required Project - Workshop or Lead a Team (Path Specific)
Elective Project (Path Specific - choose from 5+ options)
Reflect on Your Path
Toastmasters Goals and Resources
All Toastmasters members and clubs are always working toward goals.
Goals are related to Communication and Leadership accomplishments for both individual members, officers and the club as a whole.
Members and clubs who work toward the Toastmasters International goals learn a great deal and are recognized by Toastmasters International in the form of awards.

Individual Goals:
Toastmasters recently updated the education program. The new program is called Pathways. Pathways is designed to help you build the skills you need to communicate and lead. It is comprised of 10 paths that teach more than 300 unique competencies.

Club Goals: Toastmasters International recognizes high-performing clubs through the Distinguished Club Program (DCP).
When the club focuses on meeting these goals, it can help the members meet their individual goals. Reports are updated at least weekly: DCP Report for Club 8224
We are: District 29, Division E, and Area 55, Club 00008224

Resources

Links for Potential Members:
Toastmasters Listing for our Club (additional contact info)
About Toastmasters
How to Join
Pathways First Speech - Ice Breaker

Links for New Members:
Paths and Projects (thanks District 4!)
District 29 Pathways Information
Club Meeting Roles
Reference documents (Toa Payoh Central Club)
How To Documents

Links for Members who joined before October 2017 (Traditional Program):
Traditional Program Tracks
(Traditional Prgoram) Education Program
(Traditional Program) Competent Communicator Manual Summary
(Traditional Program) Competent Leadership Manual Summary
(Traditional Program) First Speech - Ice Breaker

Links for Advanced Goals (Traditional Program):
(Traditional Program) Advanced Communicator Manual Summaries
(Traditional Program) Advanced Communicator Goals
(Traditional Program) Advanced Leader Goals

Links Related to Club Leadership:
Distinguished Club Program (DCP) Report
Reports Club Leadership Tools
Club Leadership Handbook
Leader Letter
Resources (from District 29)
Club Constitution and Bylaws
(Download) Distinguished Club Program (DCP)

Traditional Program

The information below is about the Traditional (legacy) program. The traditional program is grandfathered until June 2020 for all members who joined our club/district before October 2017. Members who joined after that date will work in the Pathways Program.
The Toastmasters Traditional member educational program was based on two tracks - Communication and Leadership.
These tracks can be worked on simultaneously.

New members before Fall 2017 received 2 manuals when they joined: the Competent Communicator (CC) manual (projects related to speeches) and the Competent Leadership (CL) manual (projects mainly based on meeting roles and other leadership skills). (Now new members receive 1 online Pathway)

Communication Goals: The first 10 speeches in the traditional program are the basis of the Competent Communicator (CC) award.

Leadership Goals: In parallel with the communication track, members in the traditional program work toward the Competent Leadership (CL) award by following the manual or accomplishing the listed criteria, mainly by fulfilling club meeting roles.

Advanced Communication and Leadership Goals: On the communication track, members began working toward the Advanced Communicator (AC) awards in the traditional program once a CC was achieved.
The first two advanced manuals were free after the CC was submitted. (Pathways handles this differently). On the leadership track, some of the criteria for the advanced goals may have been met while still working on the initial level.
Each Advanced Leadership level has a list of leadership experiences or projects to accomplish.
Permanent Post



Our default conference room is the Cleveland Conference Room (101-R12-2 - 1st floor, just off the lobby).
Alternate Room Locations: Garfield (102-R12-2 above lobby) and Auditorium
Employees: Meeting room change on the 3rd Thursdays: Garfield Room Last Updated December, 2018