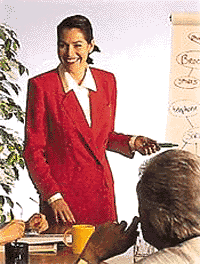 Who We Are ...
U2 Can Speak Toastmasters is a company club that meets weekly on Thursdays at lunchtime at Raytheon in Dulles, Virginia. We provide a friendly atmosphere for acquiring and practicing public speaking skills which aid in giving business presentations, answering on-the-spot questions with finesse, and feeling comfortable in front of an audience. Our club also offers plenty of Leadership Opportunities which will help you become a better leader and/or manager.
Sound like something you can benefit from? We are always looking for new members. Please drop us a line using the Join Us form to the left, give one of the officers a call or drop by a meeting as a guest. We will tell you all about Toastmasters, and how you can join the fun!
Where We Are ...
Raytheon Company, 22110 Pacific Blvd Sterling, VA 20166 [Map]
News and Events ...
Welcome!
Guests - To request a visit to our club, please fill in the Contact Form by Tuesday evening.
First time visitors - please wait to receive confirmation before attending. (Raytheon Employees are welcome to drop in.)
Returning visitors - please let Ali/Jennifer know if you plan to attend so we can update your visitor pass

Due to site requirements, only US Citizens, Permanent US Residents or Raytheon Employees can join our club.
We will contact you to obtain information needed for a virtual visitor pass.
We also want to say hello and answer any questions you may have.
Please bring a US government-issued photo ID:
US Citizens: driver's license, passport, or military id
Permanent US Resident: Permanent Resident ID card required
Raytheon employees: just come to the meeting room - see Next Meeting
All guests must have a pass and be escorted at all times beyond the lobby.
We are looking forward to hearing from you!
Upcoming Meetings & Events
All regular club meetings are held on Thursday at noon at 22110 Pacific Boulevard.
Once you've heard from us that your visitor pass is approved, please arrive by 11:50 to check-in. We will meet you in the lobby and bring you to the meeting room.

Building security requires prior approval and presentation of a government-issued photo ID at the front desk (see above).
Raytheon employees: see Next Meeting for meeting room location.

Upcoming Club Meeting & Events Schedule:
Every Thursday - Regular weekly meetings
March 5th - Club Contest - Tall Tales and International Speech
Educational Events:
Toastmasters Leadership Institute (TLI) provides a free training curriculum for all Toastmasters.
See Beyond the Club below or
https://tmd29.org/events/tli/
. Dates:
Saturday, February 15th - Full TLI (Ashburn)
Thursday evening, February 27th - Division D COT (Reston)
Other events:
District 29 Events Calendar
Members
- Please pick a date for your next speech! The education team invites you to select an open slot (2 per meeting) for your next speech or role on the Meeting Schedule. Roles are assigned periodically in a round-robin fashion to give everyone "a turn" but sign ups for February & March are open now. Please let the VPE know if you've added yourself in a role (to lock it in). Also let the VPE & TMOD know if you want to swap or drop roles. See
Toastmasters International role information
.
2019-2020 Leadership Team
All officers are here to support you, the member.

2019-2020 U2 Can Speak Club Officers:
President: Neena*
Vice President Education: Srini*
Vice President Membership: Ali
Vice President Public Relations: Calvin
Secretary: Jennifer*
Treasurer: Ewa
Sergeant-at-Arms: Christy
Immediate Past President: Radhika
* Member of Education Committee

The Club Officers, Area 55 (Sam), Division E and District 29 are all here to help you meet your communication and leadership goals.
Achieving your goals contributes to the club meeting the goals set by Toastmasters International for a healthy club.

Our club has been a President's Distinguished Club for the past 6 years and we plan to make this year lucky #7!

Our Members Serving Outside the Club:
Division Director: Anthony (Division A)
Area Directors : Jennifer (43), Marcia (44) both in Division D
Beyond the Club
There is always something going on in Toastmasters beyond our club meeting. Below are some upcoming/recent events.

Educational Events
Toastmasters Leadership Institute (TLI)*
TLI is a set of educational sessions for all members to improve their skills. TLI sessions are held in the Summer and Winter.
(complete) Dec 7th - Fairfax
(complete) Jan 16th - Vienna
(complete) Jan 25th - Woodbridge
(complete) Feb 1st - Warrenton
Saturday, Feb 15th - District 29 TLI (Ashburn)
Location: Verizon
Time: Events from 8 am to 3 pm
Thursday, Feb 27th - Division D COT+(Reston)
Location: Oracle
Time: 6:30 - 9:00 PM
Check the Eventbrite registration link, which includes the agenda (scroll down). Limited electives will be held at the COT sessions. Other COTs have been scheduled further away.
Please register
so the organizers will know how much food to serve and materials to print.
Q: Do I Have to Go the Whole Day?
A: No! These sessions are designed for flexibility. While we know you'd get a lot out of attending every course, we recognize there are a lot of things competing for your time.
Recommended minimum time:
-Officers - plenary (key note) plus core training for your role (we hope you'll stay for more)
-All other members are encouraged to attend as long as you want - come for one hour or stay the whole day. You are welcome at both the electives or core training sessions to learn more about the officer roles. (Club Elections will be held in May/June for the July 2020-June 2021 Toastmasters Year. More training will be available in the summer).
Q: Is TLI really free?
A: Yes, the training sessions are free to members and include meals! However, small donations are accepted to offset the cost of food, so, if you are inclined, bring a few dollars in cash to chip in. Remember to register so the organizers can plan for your attendance.
Q:Which class should I attend?
A: Check the agendas because the full day TLIs have many electives and COTs only have some. Scroll down on the Event Brite link to see the class descriptions and times. Here are some recommendations:
Plenary Session (Everyone) - key note speech
Officers: Officer training for your role (required)

Electives:
Newer Members/Anyone - Pathways 101, Fundamentals of Public Speaking, Making the Most out of Your Toastmasters Experience
Contests - Growing a Tall Tale, International Contest Competing Tips
Presentations (Anyone) - Advanced Powerpoint Techniques
Club Leadership (Any Officer/Future Officer) - Motivating Members, Troubleshooting Club Issues, Leading Corporate Clubs, Toastmasters Mentoring, Best Practices for Member Retention
Education Team - Pathways for Basecamp Managers
Membership/PR - Best Practices for Member Retention, How to Find and Attract Guests, Toastmasters and Social Media
District Leadership Electives (Current/Possible Future District Leaders) - Going Beyond The Club: Leadership Opportunities, Best Practices for Effective Council Meetings, Club Visit Reports for District Officers
Note: Our club does not use these website tools, so only attend the following courses if curious or a dual member: Easy Speak, FTH Website
Contests
Spring
Contests
are Tall Tales and International Speech and will begin at the club level in February/early March.
Rough Timeframes - February: Club/ mid to late March: Area /April: Division /Mid-May: District
Winners advance through Club/Area/Division and District. For the International Speech Contest, some contestants will continue all the way to the
International Convention
. The winner there is crowned the World Champion of Public Speaking. This year it will be held in Paris, France!
Fall and Spring Division winners will compete at the Spring District Conference on May 16th.
District 29 Contest Results
Other Clubs
See Affiliated Clubs below for some clubs our members are also part of or use the
Find a Club
search.
If you change the zip code, select Search Option: Open Clubs.
Other Events:
District 29 Calendar
Pathways
The Toastmasters Pathways learning experience, is an exciting, flexible and interactive way to develop your skills and help others in your club develop theirs.
All new and existing members join Pathways.
Members who joined before Fall 2017 have until June 2020 to submit traditional awards.
Paths and Core Competencies

Pathways Progress for our members

In this Summary of Levels you can see all have required projects, based on the path
and higher levels also have electives, chosen by the member.

Pathways Level 1
All paths are the same for Level 1: 4 speeches + 1 evaluation required
Ice Breaker Pathways Project
+Assignment: Ice Breaker Speech - introduce yourself to the club
Evaluation and Feedback Pathways Project
+Assignment: Evaluation and Feedback 1 Speech - 5-7 mins on any topic
+Assignment: Evaluation and Feedback 2 Speech - 5-7 mins on any topic, incorporate feedback from EV Speech 1
+Assignment: Evaluation and Feedback (evaluation role): evaluate another member's speech and have your evaluation evaluated (ask VPE team to schedule you)
Researching and Presenting Pathways Project
+Assignment: Researching and Presenting Speech 5-7 mins, research & narrow down a topic to fit within time


Members: To update the agenda on our website for a Pathways Speech:
After logging in, navigate to Meeting Schedule and click Modify for the current week.
1. Select N/A in the "Speech" row. (this is used for the Traditional/Legacy program)
2. In the Pathways section, select your Path and Level.
3. Select the right "Project" (see above for Level 1)
4. Enter the timing (green=minimum, yellow=warning, red=maximum)
5. Enter your speech Title
Scroll to the bottom of the page and click Submit.
Roles
As members, we can all do our part to help the meeting be successful by: coming to meetings regularly, RSVP'ing, and asking your mentor if you need help with a role.

Roles are assigned using a combination of VPE scheduling and member self-assignment on our website (in Members Only->Meeting Schedule).
If you see an empty speech slot or role within the upcoming month, usually it is up for grabs, but check with the VPE or TMOD to confirm.
Each week, the TMOD will be filling unassigned roles using RSVPs and the steps below.
We know things come up at the last minute, so as a group we roll with the role changes, but please try to help out the TMOD!!
To fill a slot when you are the Toastmaster of the Day or find a replacement for your role if you can't make it:
For Speakers, contact TMOD. TMOD contact VPE Team (Srini, Neena, Jennifer) for backup speaker list
For AH Counter/Timer, first look for new members who have Last Time in Role as "Never"
For other roles, check Role History for longest number of "Weeks Since"
Affiliated Clubs
As a member or guest of Toastmasters, you are welcome to visit other clubs. Although the program is the same, each club has their own personality and unique culture.
Before visiting, please check their website to find out any site requirements or schedule changes. (See Meeting Information/Directions and Club Calendar).
The clubs below are affiliated with our members but there are many, many others in the area and 16,800+ worldwide!
Other clubs nearby: Find a Club - Select Search Option: Open Clubs
*=some of our members are dual members or club coaches
P
= President's Distinguished Club 2018-2019
Toastmasters Goals and Resources
All Toastmasters members and clubs are always working toward goals.
Goals are related to Communication and Leadership accomplishments for both individual members, officers and the club as a whole.
Members and clubs who work toward the Toastmasters International goals learn a great deal and are recognized by Toastmasters International in the form of awards.

Individual Goals:
Toastmasters recently updated the education program. The new program is called Pathways. Pathways is designed to help you build the skills you need to communicate and lead. It is comprised of 11 paths that teach more than 300 unique competencies.

Club Goals: Toastmasters International recognizes high-performing clubs through the Distinguished Club Program (DCP).
When the club focuses on meeting these goals, it can help the members meet their individual goals. Reports are updated at least weekly: DCP Report for Club 8224
We are: District 29, Division E, and Area 55, Club 00008224

Resources

Links for Potential Members:
Toastmasters Listing for our Club (additional contact info)
About Toastmasters
How to Join
Pathways First Speech - Ice Breaker

Links for New Members:
The Navigator (26 page pdf)
Paths and Projects (thanks District 4!)
District 29 Pathways Information
Pathways Guide
Club Meeting Roles
Reference documents (Toa Payoh Central Club)
How To Documents

Links for Members Who Joined Before October 2017: Traditional Program Links

Links Related to Club and District Leadership
Club Leadership Tools
Club Leadership Handbook
(Download) Distinguished Club Program (DCP) and Club Success Plan
Distinguished Club Program (DCP) Report
Resources (from District 29)
Club Constitution and Bylaws
Leader Letter
Additional Reports
Matthew's Value Added Reports
Alternate Room Locations: Garfield (102-R12-2 above lobby) and Auditorium
Employees: Meeting room change on the 3rd Thursdays: Garfield Room Resources Last Updated July, 2019
Inclement Weather
Note: In the event of inclement weather, the club will decide whether to cancel by 10 am Thursday morning. Please check your email for updates.